Unlocking individual potential.
Speech Confidence is Our Mission!
Advanced Speech Therapy is committed to helping patients build brighter futures through confidence and improved function. Our caring therapist provides pediatric and adult speech therapy to help clients overcome speech-language, cognitive, and feeding/swallowing disorders, as well as orofacial myofunctional disorders (tongue thrust, oral habits, TMJ issues, tongue/lip ties).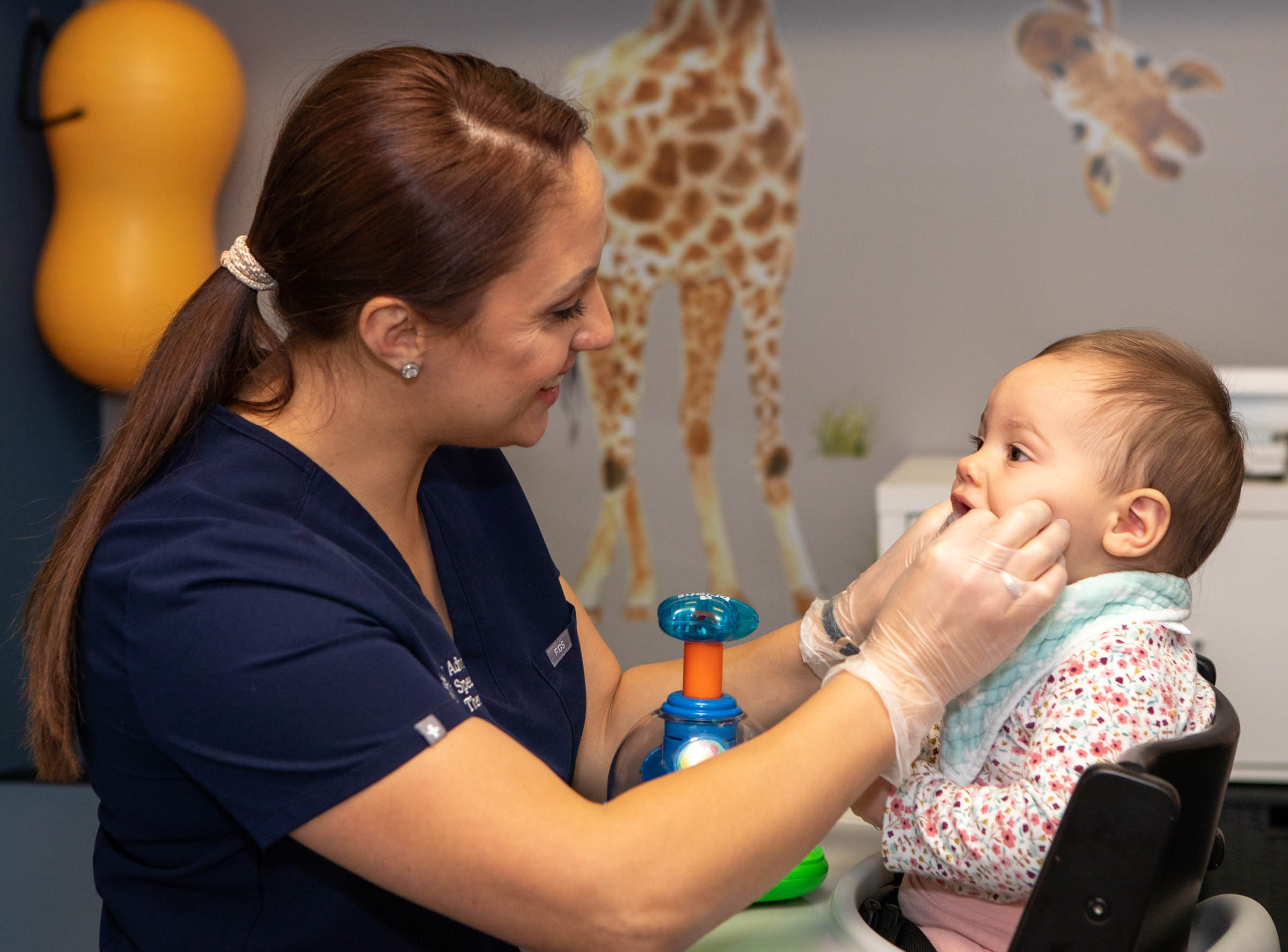 In our approach, we acknowledge that everyone has their own individual story and come from different walks of life. For this reason, we take down in-depth background information to learn about what you have already been through in the past. Whether you've been consulted by a doctor or just heard something from a mom's group, we want to hear your concerns and instincts about your health or the health of your child. We take that information and pair it with our professional examination to get at the root of your concerns. Once we identify what is causing your struggles, we plan an individual path to help you reach YOUR best potential for the future.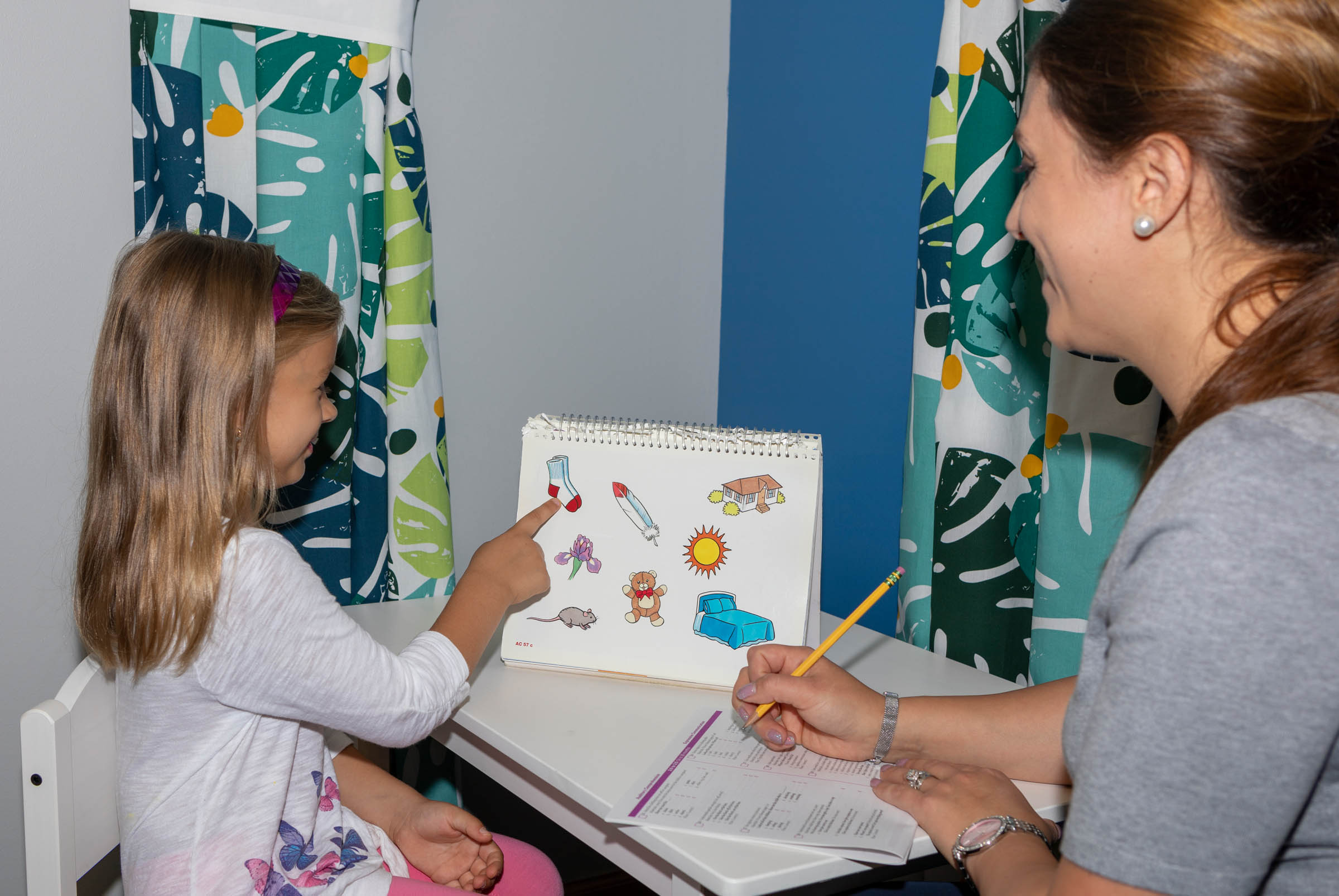 - Speech sound disorders: articulation and phonological processes
- Expressive and receptive language disorders/language delay
- Apraxia/ Dysarthria
- Feeding/swallowing, sensory-based feeding issues, limited diet ("picky eaters")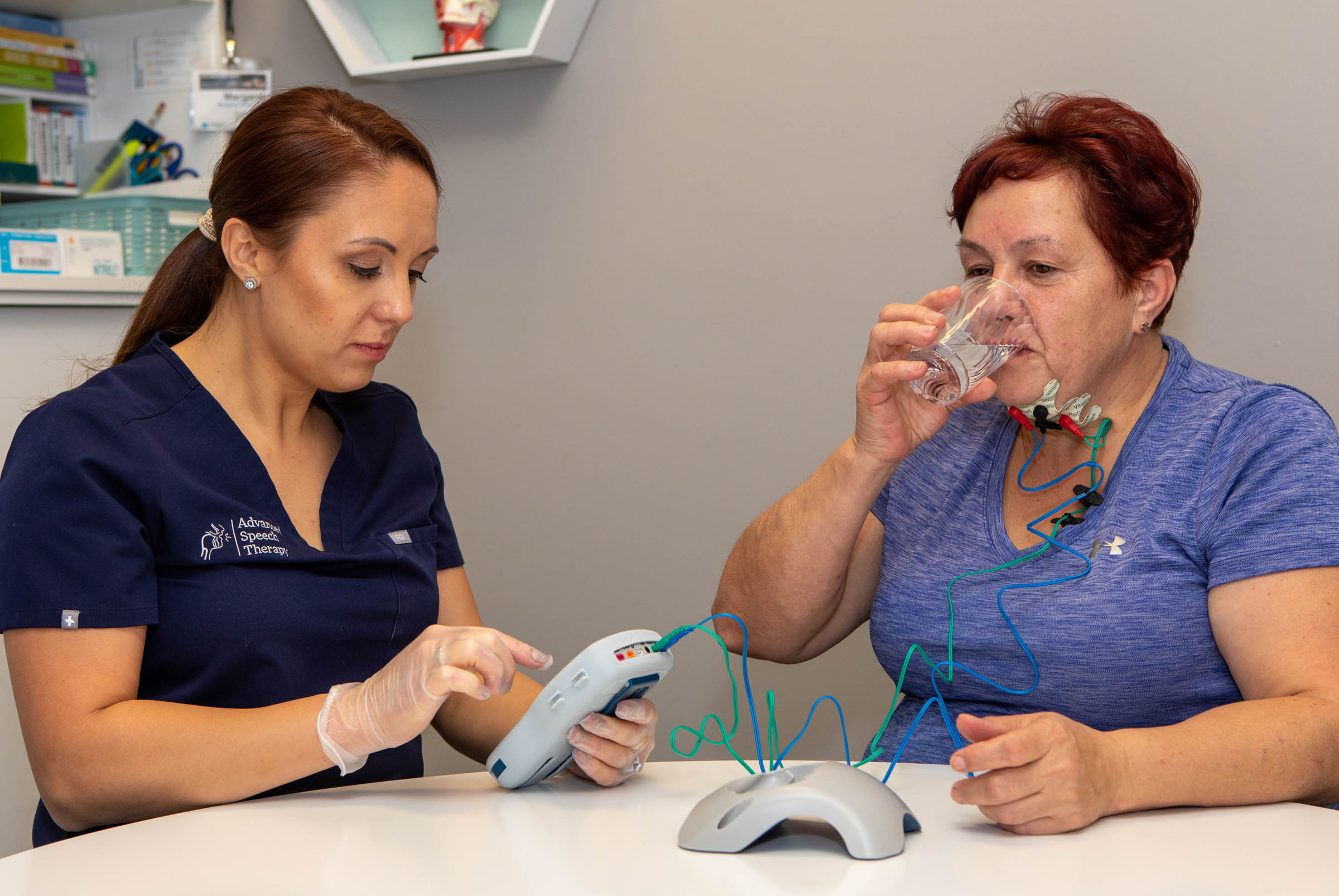 - Aphasia (expressive/receptive language)
- Dysphagia (swallowing difficulty)
- Vital/Stem (NMES) for facial and swallowing muscles retraining
- Dysarthria/ Apraxia (speech articulation)
- Cognitive Communication Disorder (memory, executive functions, attention)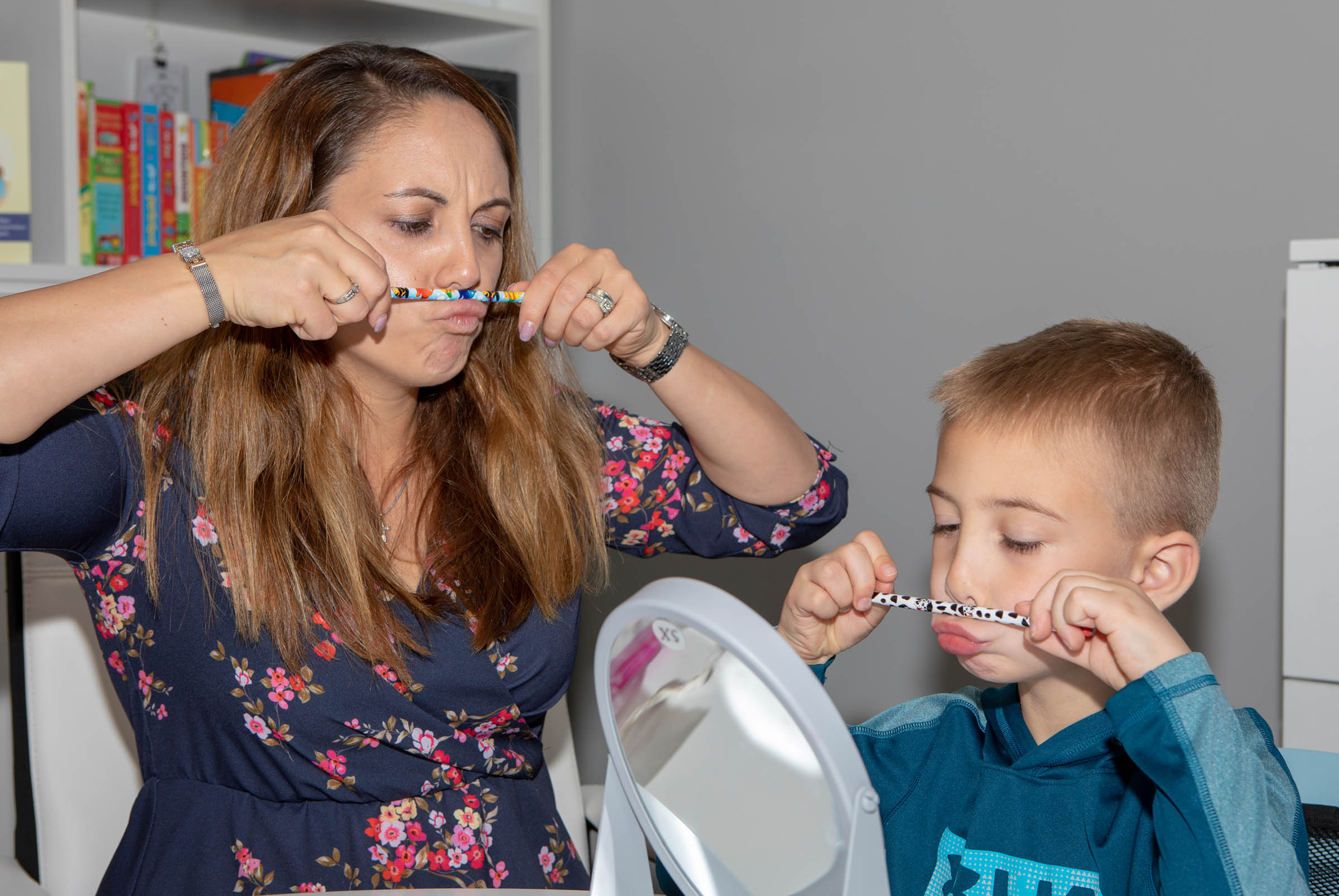 - Tongue thrust
- Oral habits (thumb/finger sucking, mouthing non-food items, prolonged pacifier/bottle use)
- Mouth breathing/open mouth posture
- Tongue/lip ties
- TMD (jaw clicking, jaw pain)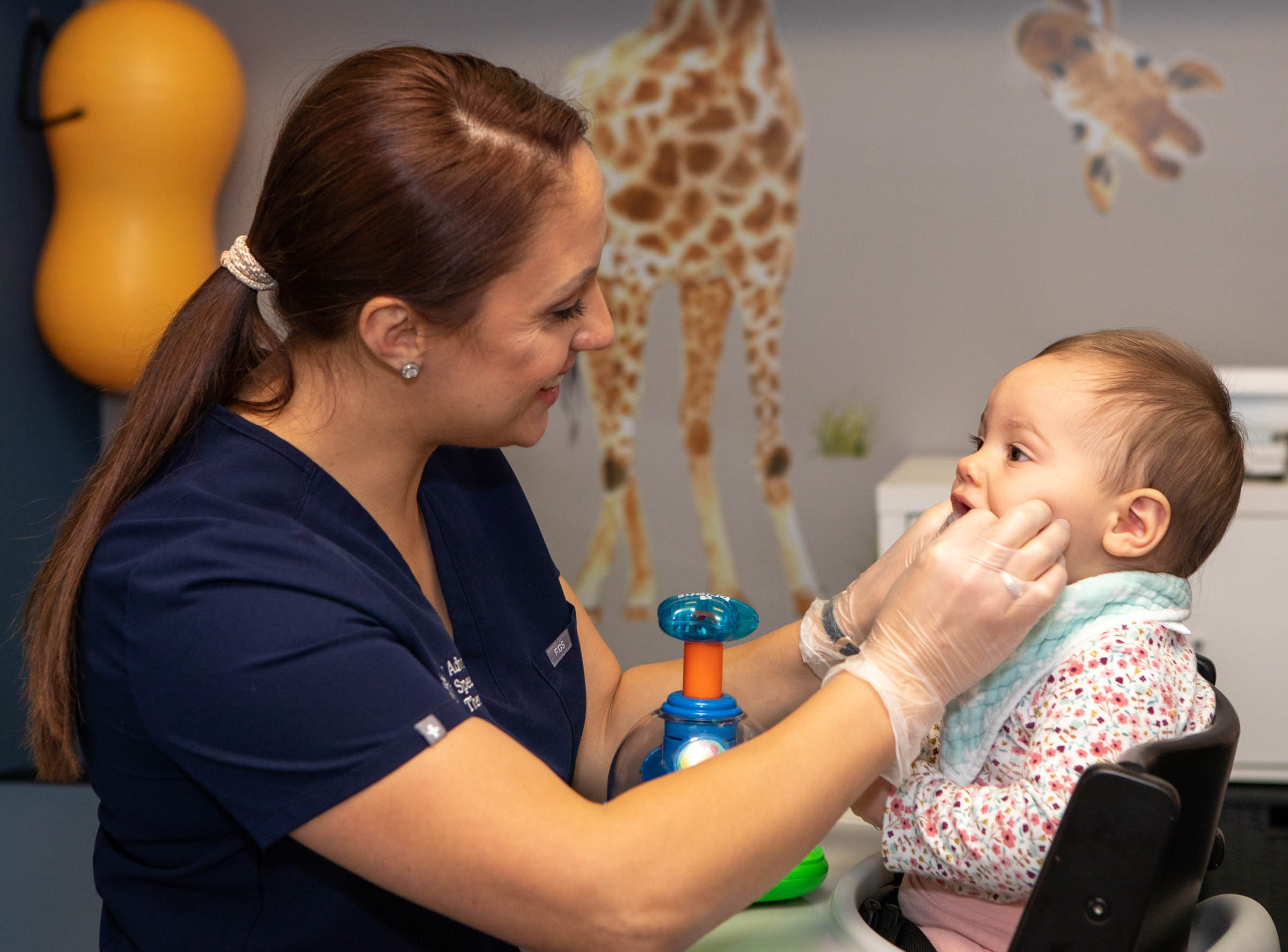 Pediatric Feeding and Swallowing Disorders
SOS program was developed by Dr. Kay Toomey, in order to address problematic feeding behaviors. The SOS Approach is based on a transdisciplinary team approach which assess the "whole child" including muscles; sensory processing; oral-motor skills; learning, behavior and cognition; nutrition, and the environment. This program focuses on increasing a child's comfort level by exploring and learning about the different properties of food. The program allows a child to interact with food in a playful, non-stressful way through a hierarchy of required steps in order to promote confidence as well as development of tolerance and acceptance of various foods. Our therapists fully trained in the Sequential Oral Sensory (SOS) feeding program.
Breathing Pattern disorders
Dysfunctional breathing generally includes any of the following traits:
Over breathing/hyperventilation
Unexplained breathlessness
Irregular breathing
Mouth breathing
Upper chest movement
Hearing breathing during rest
Regular sniffing/sighing
Snoring
Lots of visible movement
Buteyko Breathing Re-Education
Named after Dr Konstantin Buteyko, the Buteyko Method consists of a series of breathing exercises and guidelines specifically designed to reduce over-breathing (clinically known as 'chronic hyperventilation'). This can lead to numerous health problems. Bringing breathing volume towards normal and making the switch from mouth to nose breathing helps to alleviate such health problems. (McKeown, Patrick, 2015.)

Our therapists are trained in the Buteyko breathing method from the internationally acclaimed, Moscow accredited Buteyko practitioner, author of many bestselling books on breathing patterns disorders, Patrick McKeown.

RE-EDUCATE YOUR BREATHING TO SUPPORT LIFELONG HEALTH AND WELL-BEING!
Many people are still unaware of the existence of Myofunctional Therapy. What is it? What does it resolve? Many times patients are looking for a natural and more holistic approach to myofunctional disorders that can affect: sleep, breathing chewing, swallowing, growth and development, behavior, school performance, and some speech issues. While the demand is present, the understanding and development of solutions still remain limited. Generally myofunctional disorders generally affect children, but it absolutely can affect adults as well. It is best that these symptoms are best approached as early as possible in a person's life, however many patients are frustrated that these symptoms could have been resolved sooner. The goal is to be able to offer a way for parents & patients a way to seek help, find resources and to make well informed decisions on their health care goals.
16009 Executive Dr.
Crest Hill, IL 60403
Monday - Thursday 8:00am - 7:00pm
Friday 8:00am - 1:00pm
Saturday by appointment only